I only create eco–friendly, natural perfumes with pure, organic essential oils. There are no additives and no synthetic substances. All of our blends are made of carefully selected oils to achieve the best optimum synergy with the highest possible frequency.
The blends are unique, and each one carries a purpose.I take the time when creating the mixtures to ensure the perfume embodies all of the luxuries of nature. After all, that's what perfumes should be about.
I use certified organic and therapeutic grade essential oils, as well as extracts from raw and organic plants. Whenever possible I also use wild harvested leaves, stems, petals and roots! They are toxin free and do not contain the heavy metals, phthalates, parabens, petro–chemicals, PEGs, or synthetic preservatives you find in traditional perfumes.
Dry, earthy, bark and pine-like top notes over smooth,
rich notes of moss, wood, decaying leaf
Properties
emotionally grounding, relief from wounds
OSMANTHUS
(Osmanthus fragrans absolutee)
Intensely rich, sweet, fruity-floral aroma
and faint animalic/leather undertones
Properties
stimulating, happiness, depression, apathy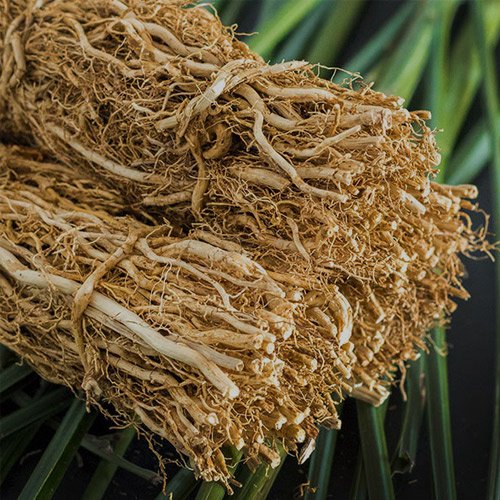 VETIVER
(Vetiveria zizanioides)
clear earthy aroma becomes deeper as it
dries with very light smoky notes
Properties
grounding, calming, shock relief due to loss
Properties
kindness, rebirth, stress relief, healing love
CACAO ABSOLUTE
(Theodroma cacao)
Powdery Cocoa note
Properties
comfort, well-being
TONKA BEAN
(Dipteryx odorata)
Very rich, caramel and almond bitter-like,
powdery-sweet aroma
CEDARWOOD
(Cedrus deodorata)
Very rich, sweet, woody, warm and balsamic
Properties
aphrodisiac, grounding, meditation
SANDALWOOD
(Santalum album)
Extremely rich,
woody, sweet
Properties
mindfullness,meditation, peace
PATCHOULI
(Pogostemom cablin)
Deeply pungent, warm,
earthy-woody, sweet-herbaceous
Properties
rebellous, sensual, mysterious
Powerful, intensely sweet,
dense, balsamic floral aroma
Properties
wildness, sensual, mysterious
ORRIS BUTTER


(Iris pallida)
Delicate, sweet, warm, powdery-floral aroma
MASTIC


(Pistacia lentiscus)
Rich, warm,
highly aromatic
Properties
energy, clarity,
refreshing
BERGAMOT
(Citrus bergamia)
Bright, sweet,
refreshing
Properties
cooling, refreshing, uplifting, calming,
balancing, uplifting for spirit
CINNAMON BARK
(Cinnamomum zeylanicum)
Extremely powerful, very warm,
spicy-sweet aroma
Properties
warmth,
loving
CARDAMOM
(Elettaria cardamomum)
Spicy-sweet, rich,
warm, highly aromatic
Properties
aphrodisiac, stimulating,
refreshes the mind
LINDEN BLOSSOM
(Tilia cordata)
Fresh, warm floral aroma
with delicate, sweet,
honey-fruity top notes
Properties
radiation, emotional healing,
calming
Intensely floral, very sweet, tenacious,
with a deep richness and a somewhat musky
Properties
reinforcing, harmonizing, dynamism, spiritual magic,
protection, good luck, liberates imagination and develops exhilarating playfulness
VANILLA OLEORESIN
(Vanilla planifolia)
Deep, sweet, warm, rich, characteristic Vanilla aroma
with caramel and chocolate-like nuances
and deep balsamic undertones
Properties
emotional, sensuality, confidence,
relaxation, security, comfort
BEESWAX ABSOLUTE
(Elettaria cardamomum)
Deliciously sugar-sweet, rich,
warm, fine honey
and pollen notes
rich, floral-woody,
slightly green
Properties
relaxing, warming
BENZOIN
(Styrrax benzoin)
Rich, intensely sweet,
warm, powdery, balsamic
GALBANUM
(Cistus Ladanifer)
Unusual full of bright, glittering metallic flashes in a green leafy body
with more earthy, dirty undertones
GARDENIA ENFLEURAGE
(Gardenia fragrans)
Sweet, delightful and delicious,
this is our wonderful gardenia oil
NEROLI
(Citrus aurantium var.amara L.)
delicate, sweet, perfectly balanced white floral aroma with
effervescent citrus and subtle green top notes
Properties
blossoming, uplifting, comfort and strength,
and assists in the release of repressed emotions
PINK PEPPER
(Schinus molle L.)
Fresh, very intense, dry, warm, sweet-spicy aroma with a
faint floral note, a dry woody undernote.
Properties
soothes and relaxes the nervous system, fell alert and
back in track after grogginess and brain-fog